Editorial Note: This is copied verbatim from a story in the nationofchange.org web site. I believe it is important that every Occupier and Supporter read it but the main message is this: We Love Amer­ica. We're Here to Fix It BECAUSE it has become broken. He does not SAY because it has become broken. I added that part because I believe it is important to STATE that the country is broken, rather than just IMPLY it in the basic framing statement.  But I totally agree with the WE Love America... context. I also believe the nation NEEDS to GET that is what the Occupy people, at their CORES, believe too.
original is here http://www.nationofchange.org/framing-memo-occupy-wall-street-1319120927 by this guy
  George Lakoff
Nation of Change
Op-Ed Published: Thursday 20 October 2011 "It's a general principle: Unless you frame yourself, others will frame you — the media, your enemies, your competitors, your well-meaning friends."
TEXT:
I was asked weeks ago by some in the Oc­cupy Wall Street move­ment to make sug­ges­tions for how to frame the move­ment. I have hes­i­tated so far, be­cause I think the move­ment should be fram­ing it­self. It's a gen­eral prin­ci­ple: Un­less you frame your­self, oth­ers will frame you — the media, your en­e­mies, your com­peti­tors, your well-mean­ing friends. I have so far hes­i­tated to offer sug­ges­tions. But the move­ment ap­pears to ma­tur­ing and en­ter­ing a crit­i­cal time when small fram­ing er­rors could have large neg­a­tive con­se­quences. So I thought it might be help­ful to ac­cept the in­vi­ta­tion and start a dis­cus­sion of how the move­ment might think about fram­ing it­self.
About fram­ing: It's nor­mal. Every­body en­gages in it all the time. Frames are just struc­tures of thought that we use every day. All words in all lan­guages are de­fined in terms of frame-cir­cuits in the brain. But, ul­ti­mately, fram­ing is about ideas, about how we see the world, which de­ter­mines how we act.
In pol­i­tics, frames are part of com­pet­ing moral sys­tems that are used in po­lit­i­cal dis­course and in chart­ing po­lit­i­cal ac­tion. In short, fram­ing is a moral en­ter­prise: it says what the char­ac­ter of a move­ment is. All pol­i­tics is moral. Po­lit­i­cal fig­ures and move­ments al­ways make pol­icy rec­om­men­da­tions claim­ing they are the right things to do. No po­lit­i­cal fig­ure ever says, do what I say be­cause it's wrong! Or be­cause it doesn't mat­ter! Some moral prin­ci­ples or other lie be­hind every po­lit­i­cal pol­icy agenda.
Two Moral Fram­ing Sys­tems in Pol­i­tics
Con­ser­v­a­tives have fig­ured out their moral basis and you see it on Wall Street: It in­cludes: The pri­macy of self-in­ter­est. In­di­vid­ual re­spon­si­bil­ity, but not so­cial re­spon­si­bil­ity. Hi­er­ar­chi­cal au­thor­ity based on wealth or other forms of power. A moral hi­er­ar­chy of who is "de­serv­ing," de­fined by suc­cess. And the high­est prin­ci­ple is the pri­macy of this moral sys­tem it­self, which goes be­yond Wall Street and the econ­omy to other are­nas: fam­ily life, so­cial life, re­li­gion, for­eign pol­icy, and es­pe­cially gov­ern­ment. Con­ser­v­a­tive "democ­racy" is seen as a sys­tem of gov­er­nance and elec­tions that fits this model.
Though OWS con­cerns go well be­yond fi­nan­cial is­sues, your tar­get is right: the ap­pli­ca­tion of these prin­ci­ples in Wall Street is cen­tral, since that is where the money comes from for elec­tions, for media, and for right-wing pol­icy-mak­ing in­sti­tu­tions of all sorts on all is­sues.
The al­ter­na­tive view of democ­racy is pro­gres­sive: Democ­racy starts with cit­i­zens car­ing about one an­other and act­ing re­spon­si­bly on that sense of care, tak­ing re­spon­si­bil­ity both for one­self and for one's fam­ily, com­mu­nity, coun­try, peo­ple in gen­eral, and the planet. The role of gov­ern­ment is to pro­tect and em­power all cit­i­zens equally via The Pub­lic: pub­lic in­fra­struc­ture, laws and en­force­ment, health, ed­u­ca­tion, sci­en­tific re­search, pro­tec­tion, pub­lic lands, trans­porta­tion, re­sources, art and cul­ture, trade poli­cies, safety nets, and on and on. No­body makes it one their own. If you got wealthy, you de­pended on The Pub­lic, and you have a re­spon­si­bil­ity to con­tribute sig­nif­i­cantly to The Pub­lic so that oth­ers can ben­e­fit in the fu­ture. More­over, the wealthy de­pend on those who work, and who de­serve a fair re­turn for their con­tri­bu­tion to our na­tional life. Cor­po­ra­tions exist to make life bet­ter for most peo­ple. Their rea­son for ex­ist­ing is as pub­lic as it is pri­vate.
A dis­pro­por­tion­ate dis­tri­b­u­tion of wealth robs most cit­i­zens of ac­cess to the re­sources con­trolled by the wealthy. Im­mense wealth is a thief. It takes re­sources from the rest of the pop­u­la­tion — the best places to live, the best food, the best ed­u­ca­tions, the best health fa­cil­i­ties, ac­cess to the best in na­ture and cul­ture, the best pro­fes­sion­als, and on and on. Re­sources are lim­ited, and great wealth greatly lim­its ac­cess to re­sources for most peo­ple.
It ap­pears to me that OWS has a pro­gres­sive moral vi­sion and view of democ­racy, and that what it is protest­ing is the dis­as­trous ef­fects that have come from op­er­at­ing with a con­ser­v­a­tive moral, eco­nomic, and po­lit­i­cal world­view. I see OWS as pri­mar­ily a moral move­ment, seek­ing eco­nomic and po­lit­i­cal changes to carry out that moral move­ment — what­ever those par­tic­u­lar changes might be.
A Moral Focus for Oc­cupy Wall Street
I think it is a good thing that the oc­cu­pa­tion move­ment is not mak­ing spe­cific pol­icy de­mands. If it did, the move­ment would be­come about those de­mands. If the de­mands were not met, the move­ment would be seen as hav­ing failed.
It seems to me that the OWS move­ment is moral in na­ture, that oc­cu­piers want the coun­try to change its moral focus. It is easy to find use­ful poli­cies; hun­dreds have been sug­gested. It is harder to find a moral focus and stick to it. If the move­ment is to frame it­self, it should be on the basis of its moral focus, not a par­tic­u­lar agenda or list of pol­icy de­mands. If the moral focus of Amer­ica changes, new peo­ple will be elected and the poli­cies will fol­low. With­out a change of moral focus, the con­ser­v­a­tive world­view that has brought us to the pre­sent dis­as­trous and dan­ger­ous mo­ment will con­tinue to pre­vail.
We Love Amer­ica. We're Here to Fix It
Most news sources are funded by cor­po­ra­tions and in­vestors. Their goal is to drive peo­ple to ad­ver­tis­ers while push­ing the cor­po­rate agenda. Na­tionofChange is a 501(c)3 or­ga­ni­za­tion funded al­most 100% from its read­ers–you! Our only ac­count­abil­ity is to the pub­lic. Click here to make a gen­er­ous do­na­tion.
I see OWS as a pa­tri­otic move­ment, based on a deep and abid­ing love of coun­try — a pa­tri­o­tism that it is not just about the self-in­ter­ests of in­di­vid­u­als, but about what the coun­try is and is to be. Do Amer­i­cans care about other cit­i­zens, or mainly just about them­selves? That's what love of Amer­ica is about. I there­fore think it is im­por­tant to be pos­i­tive, to be clear about lov­ing Amer­ica, see­ing it in need of fix­ing, and not just being will­ing to fix it, but being will­ing to take to the streets to fix it. A pop­ulist move­ment starts with the peo­ple see­ing that they are all in the same boat and being ready to come to­gether to fix the leaks.
Pub­li­cize the Pub­lic
Tell the truth about The Pub­lic, that no­body makes it purely on their own with­out The Pub­lic, that is, with­out pub­lic in­fra­struc­ture, the jus­tice sys­tem, health, ed­u­ca­tion, sci­en­tific re­search, pro­tec­tions of all sorts, pub­lic lands, trans­porta­tion, re­sources, art and cul­ture, trade poli­cies, safety nets, … That is a truth to be told day after day. It is an idea that must take hold in pub­lic dis­course. It must go be­yond what I and oth­ers have writ­ten about it and be­yond what Eliz­a­beth War­ren has said in her fa­mous video. The Pub­lic is not op­posed to The Pri­vate. The Pub­lic is what makes The Pri­vate pos­si­ble. And it is what makes free­dom pos­si­ble. Wall Street ex­ists only through pub­lic sup­port. It has a moral oblig­a­tion to di­rect it­self to pub­lic needs.
All OWS ap­proaches to pol­icy fol­low from such a moral focus. Here are a hand­ful ex­am­ples.
Democ­racy should be about the 99%
Money di­rects our pol­i­tics. In a democ­racy, that must end. We need pub­licly sup­ported elec­tions, how­ever that is to be arranged.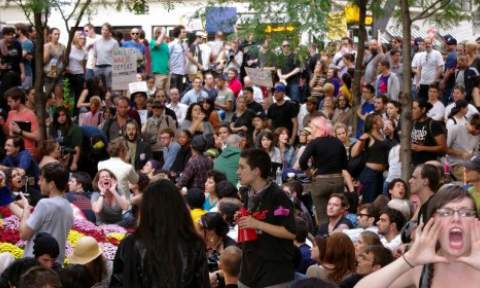 Strong Wages Make a Strong Amer­ica
Mid­dle-class wages have not gone up sig­nif­i­cantly in 30 years, and there is con­ser­v­a­tive pres­sure to lower them. But when most peo­ple get more money, they spend it and spur the econ­omy, mak­ing the econ­omy and the coun­try stronger, as well as mak­ing their in­di­vid­ual lives bet­ter. This truth needs to be cen­tral to pub­lic eco­nomic dis­course.
Global Cit­i­zen­ship
Amer­ica has been a moral bea­con to the world. It can func­tion as such only if it sets an ex­am­ple of what a na­tion should be.
Do we have to spend more on the mil­i­tary that all other na­tions com­bined? Do we re­ally need hun­dreds of mil­i­tary bases abroad?
Na­ture
We are part of na­ture. Na­ture makes us, and all that we love, pos­si­ble. Yet we are de­stroy­ing Na­ture through global warm­ing and other forms of eco­log­i­cal de­struc­tion, like frack­ing and deep-wa­ter drilling.
At a global scale, na­ture is sys­temic: its ef­fects are nei­ther local nor lin­ear. Global warm­ing is caus­ing the fe­roc­ity of the mon­ster storms, tor­na­dos, floods, bliz­zards, heat waves, and fires that have dev­as­tated huge areas of our coun­try. The hot­ter the at­mos­phere, the more evap­o­rated water and the more en­ergy going into storms, tor­na­dos, and bliz­zards. Global warm­ing can­not be shown to cause any par­tic­u­lar storm, but when a storm sys­tem forms, global warm­ing will ramp up the power of the storm and the amount of water it car­ries. In win­ter, evap­o­rated water from the overly heated Pa­cific will go into the at­mos­phere, blow north­east over the arc­tic, and fall as record snows.
We de­pend on na­ture — on clean air, water, food, and a liv­able cli­mate. And we find beauty and grandeur in na­ture, and a sense of awe that makes life worth liv­ing. A love of coun­try re­quires a love of na­ture. And a fair and thriv­ing econ­omy re­quires the preser­va­tion of na­ture as we have known it.
Sum­mary
OWS is a moral and pa­tri­otic move­ment. It sees Democ­racy as flow­ing from cit­i­zens car­ing about one an­other as well as them­selves, and act­ing with both per­sonal and so­cial re­spon­si­bil­ity. De­mo­c­ra­tic gov­er­nance is about The Pub­lic, and the lib­erty that The Pub­lic pro­vides for a thriv­ing Pri­vate Sphere. From such a democ­racy flows fair­ness, which is in­com­pat­i­ble with a hugely dis­pro­por­tion­ate dis­tri­b­u­tion of wealth. And from the sense of care im­plicit in such a democ­racy flows a com­mit­ment to the preser­va­tion of na­ture.
From what I have seen of most mem­bers of OWS, your in­di­vid­ual con­cerns all flow from one moral focus.
Elec­tions
The Tea Party so­lid­i­fied the power of the con­ser­v­a­tive world­view via elec­tions. OWS will have no long-term ef­fect un­less it too brings its moral focus to the 2012 elec­tions. In­sist on sup­port­ing can­di­dates that have your over­all moral views, no mat­ter what the local is­sues are.
A Warn­ing
This move­ment could be de­stroyed by neg­a­tiv­ity, by calls for re­venge, by chaos, or by hav­ing noth­ing pos­i­tive to say. Be pos­i­tive about all things and state the moral basis of all sug­ges­tions. Pos­i­tive and moral in call­ing for debt re­lief. Pos­i­tive and moral in up­hold­ing laws, as they apply to fi­nances. Pos­i­tive and moral in call­ing for fair­ness in ac­quir­ing needed rev­enue. Pos­i­tive and moral in call­ing for clean elec­tions. To be ef­fec­tive, your move­ment must be seen by all of the 99% as pos­i­tive and moral. To get pos­i­tive press, you must stress the pos­i­tive and the moral.
Re­mem­ber: The Tea Party sees it­self as stress­ing only in­di­vid­ual re­spon­si­bil­ity. The Oc­cu­pa­tion Move­ment is stress­ing both in­di­vid­ual and so­cial re­spon­si­bil­ity.
I be­lieve, and I think you be­lieve, that most Amer­i­cans care about their fel­low cit­i­zens as well as them­selves. Let's find out! Shout your moral and pa­tri­otic views out loud, reg­u­larly. Put them on your signs. Re­peat them to the media. Tweet them. And tell every­one you know to do the same. You have to use your own lan­guage with your own fram­ing and you have to re­peat it over and over for the ideas to sink in.
Oc­cupy elec­tions: voter reg­is­tra­tion dri­ves, town hall meet­ings, talk radio air­time, party or­ga­ni­za­tions, nom­i­na­tion cam­paigns, elec­tion cam­paigns, and vot­ing booths.
Above all: Frame your­selves be­fore oth­ers frame you.